Capabilities across the Technology Stack
Visualization
Visualization
Agiliad offerings in the Visualization space span across UI/UX for front-ends, 2D rendering, Volumetric visualizations, Native application user interfaces, Web & Mobile applications.

We have been working for a number of customers for Building Interactive and Responsive Dashboards for providing clear and coherent insights into data.

Our capabilities in this space range from developing Qt / QML based or WPF based native applications to creating hybrid and native mobile application in iOS / Android apps. Our team has experience of working on all leading frameworks like Angular, React, Vuejs to create professional dashboards and web user interfaces.

We have developed IDEs for industrial customers, IoT dashboards for medical customers, data lake based rendering engines for storage customers.
Cloud Services
Cloud Services
Agiliad offers full-stack chip-to-cloud transformation for our customers by harnessing the increasing capabilities for cloud service offerings. We are not only using Cloud offerings to create end-to-end solutions for our customers but also enabling cloud service providers through development of data storage systems.

We have delivered solutions to customers that are based on Azure, AWS, Google Cloud Platform & Alibaba cloud offerings and provided integrated solutions based on SQL, No-SQL, Blog storage, Big Data storage, Time Series databases for our customers.

We have experience in creating micro-services based architectures that are scalable, maintainable, meet stringent performance requirements and have implemented a number of projects that utilize the docker, Kubernetes infrastructure.

Connectivity Services
Connectivity Services
Agiliad has executed a number of projects to bind the device layers to Cloud service offerings across domains.

Connectivity / protocols / communication data formats are predominantly domain specific without overlapping specifications.
SATA,SAS, NVMe, FCoE,
NW Fabrics
OPC-UA, EtherCAT, CAN, LIN
Ethernet/IP
BLE, Zigbee, WiFi Mesh,
6LoWPAN
Agiliad's extensive experience includes protocol implementation, creation of reuseable connectivity libraries, automated QA and integrated solutions. We have also developed hardware solutions for protocol conversion and connectivity.
Application & Firmware Offerings
Application & Firmware Offerings
Device Legal Services
Device Level Services
Agiliad's focus on core embedded systems includes Micro-controllers, FPGAs, GPGPUs which has enabled us to create a range of service offerings for our customers.

Our in-house labs for Mammography systems, Ultrasound systems, Heavy equipment ECUs, Electronics Assembly fuel our pursuit of keeping up with the ever-evolving technologies. We have dedicated Hardware design and Mechanical design teams to support our customer's needs.

Accelerated Hardware systems, Deep Learning, IoT, Computer Vision, IoT are transforming the way products are designed. End customers need smarter, connected products that can solve everyday problems at lesser cost and better efficiencies.

Our Hardware, Software and IoT Technology practice, along with our deep domain expertise in embedded systems and connectivity, is supporting clients in accelerating their transformation.

Cybersecurity
Cybersecurity
Global connectivity and increasing footprint of cloud services are necessitating that products are designed with cybersecurity designing in upfront rather than being an afterthought. Agiliad's cybersecurity offerings include:

Security engineering & management
Vulnerability assessment
Penetration Testing
NIST frameworks-based Security compliance

Agiliad has been working for medical, industrial and storage customers where information security and confidentiality is of paramount important. Our cybersecurity service offering handles both data-at-rest and data-in-transit. These span use cases like medical health records, factory safety control networks, and customer data integrity.

[Application & Firmware Offerings]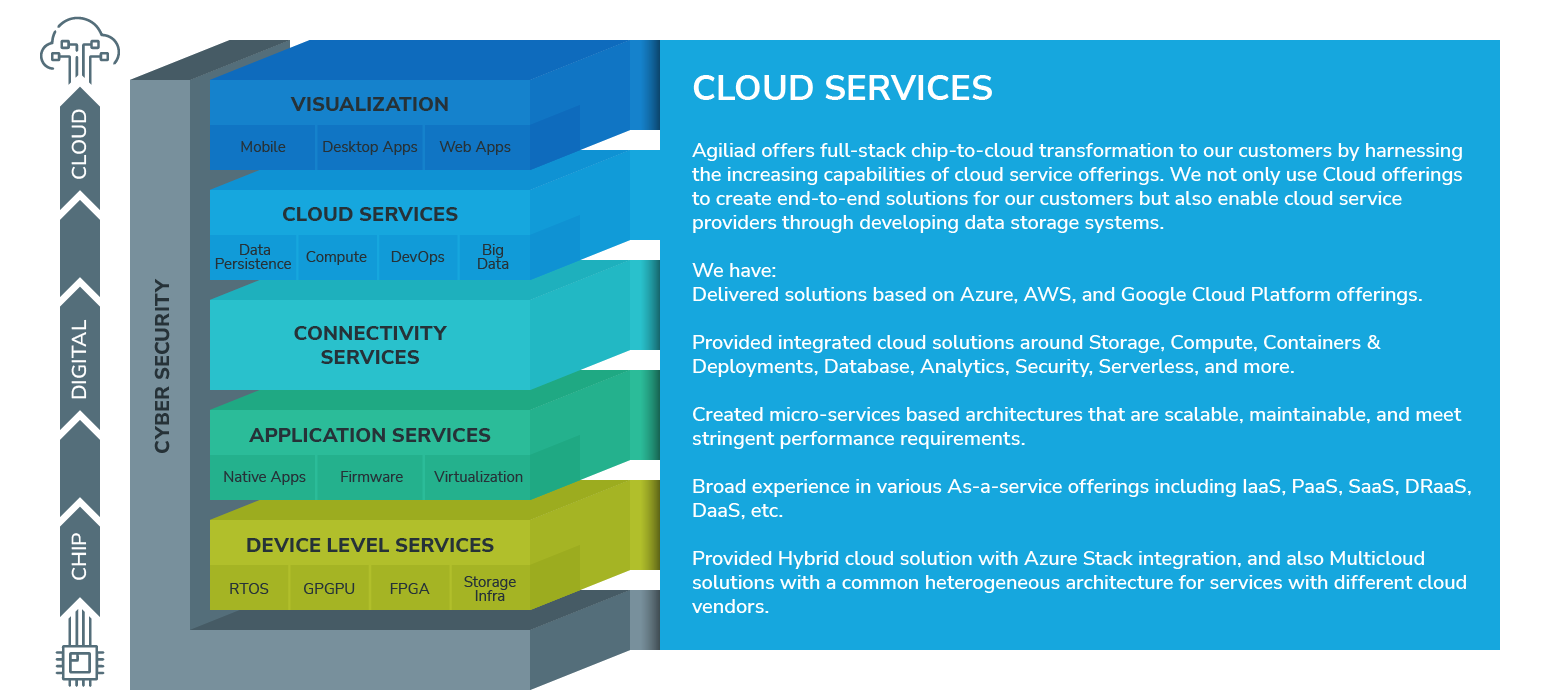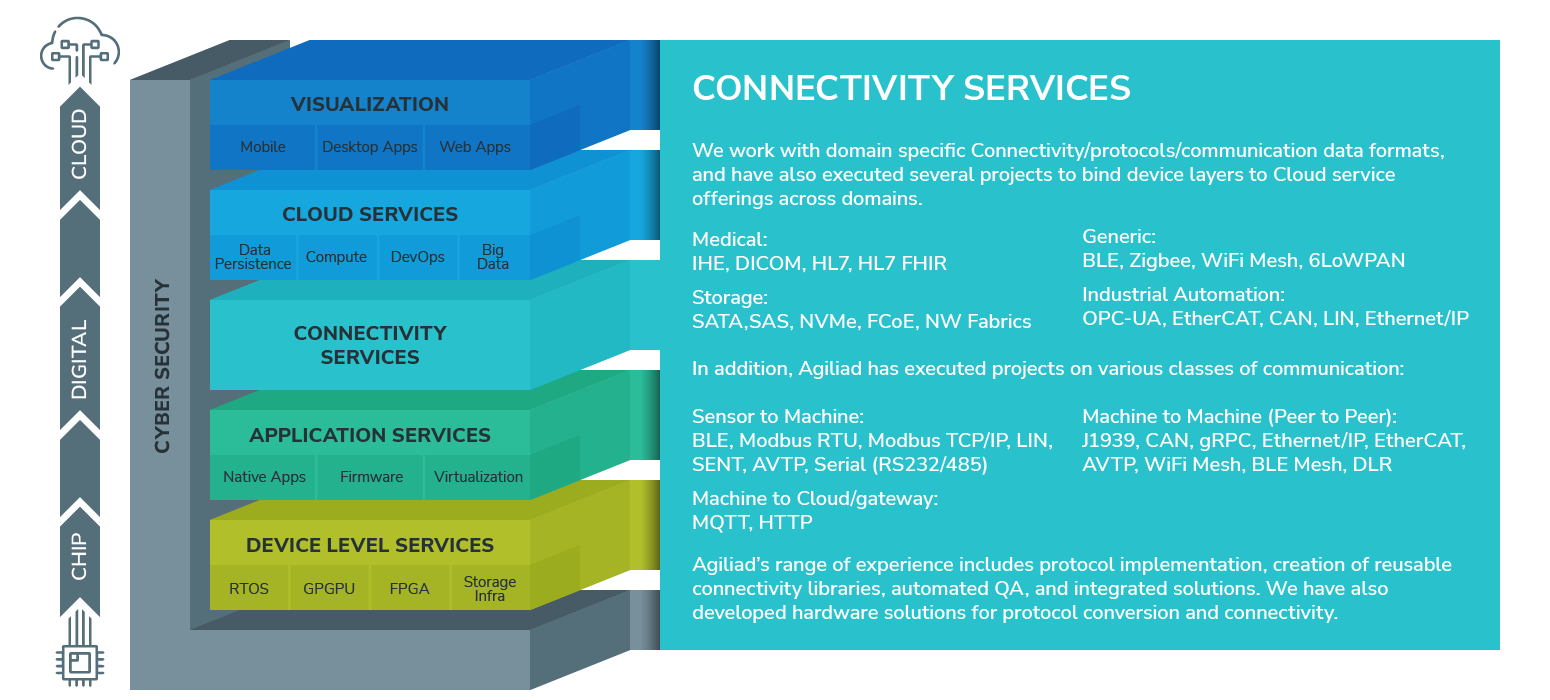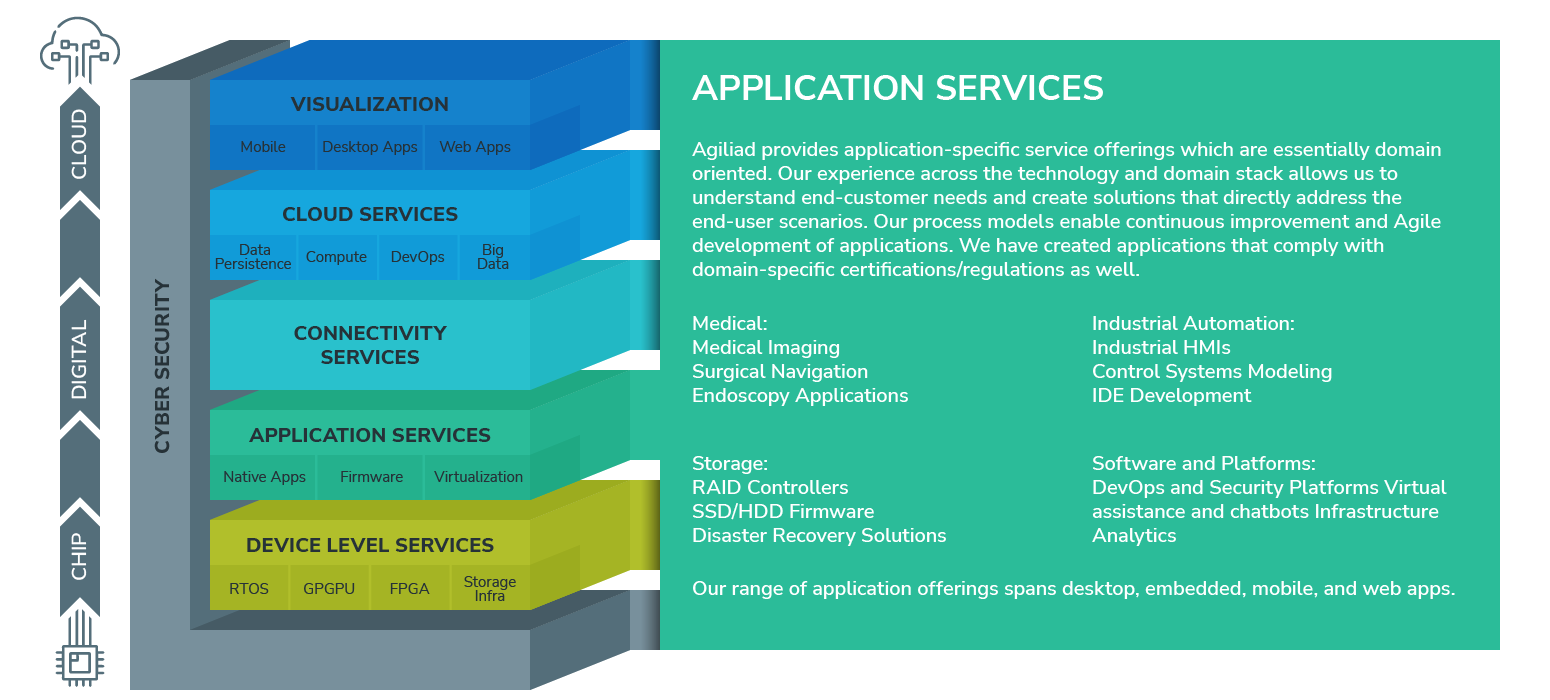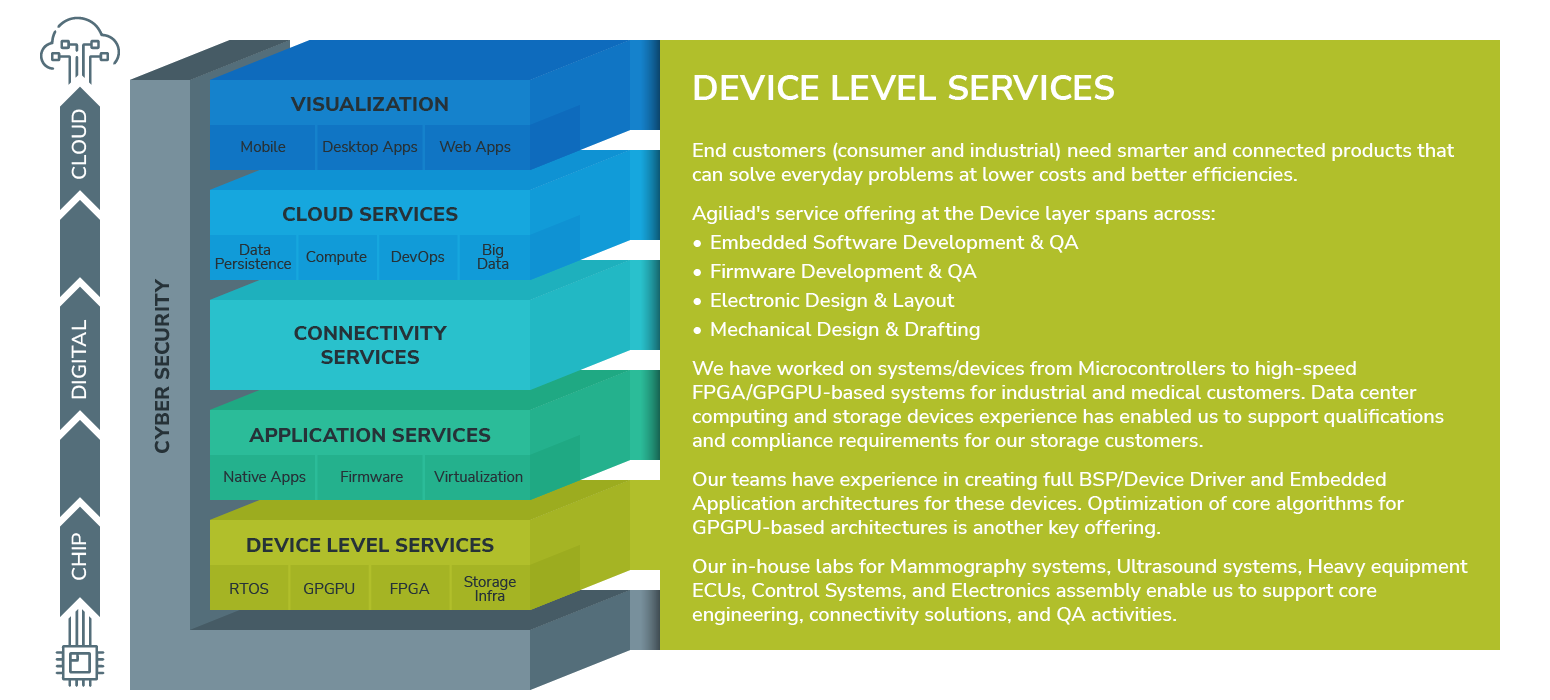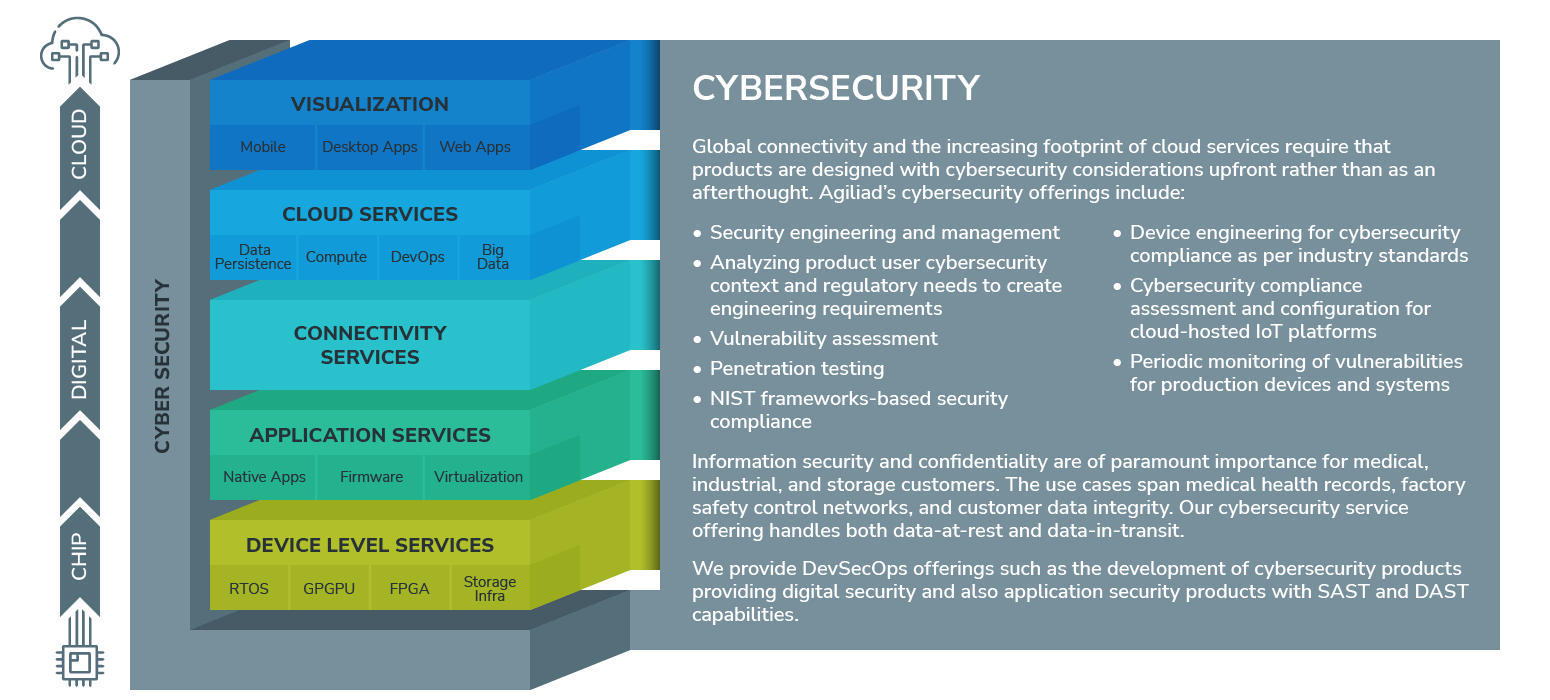 Home Page - Technology Stack - Desktop - FEB 2023 new Color_Visualization
Home Page - Technology Stack - Desktop - FEB 2023 new Color_Cloud Services
Home Page - Technology Stack - Desktop - FEB 2023 new Color_Connectivity Services
Home Page - Technology Stack - Desktop - FEB 2023 new Color_Application Services
Home Page - Technology Stack - Desktop - FEB 2023 new Color_Device Level Services
Home Page - Technology Stack - Desktop - FEB 2023 new Color_Cyber Security